Fourier's NOVA LINK data logger (formerly USBLink) is transforming science education across the globe. NOVA LINK is a budget-friendly sensor interface, converting any computer into a science learning station. NOVA LINK enables students to directly experience and understand otherwise intangible science principles and helps them present and relate scientific concepts to the real world.
Included with NOVA LINK is the full version of Fourier's award winning MultiLab™ data analysis software. Together, NOVA LINK and MultiLab unlock an advanced set of science discovery tools covering the full spectrum of the science project cycle in as little as one lesson.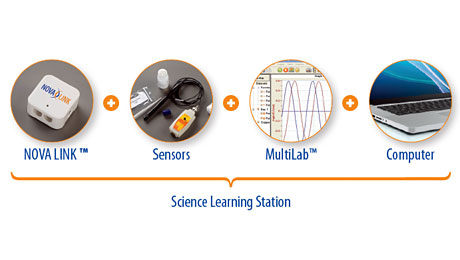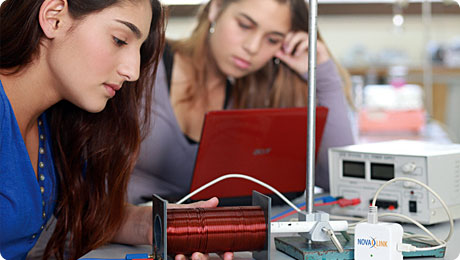 Thanks to the NOVA LINK data logger and its low price, I could provide a complete set of equipment to every single student in my class. So they are truly independent in the experimental approach. FOURIER sensors are high quality products and provide fast, repeatable and reliable measurements. The results can be interpreted very easily thanks to the graphical and mathematical analysis tools included in the MultiLab software.
Florence D.
High school Physics teacher and TICE member in Metz/Nancy academy.
France
Key Features
Plug-n-play data logging (auto sensor detection)

High frequency online sampling rate up to 10,000 samples per second

Simultaneous data collection from up to 8 sensors

Works with Fourier's over 65 scientific sensors

Powered by USB port

Bundled with the FULL version of MultiLab Data analysis software
Content
Environmental Science & Water Quality

Part number: BK055

See Details

Experiments in Biology

Part number: BK029

See Details

Experiments in Chemistry

Part number: BK030

See Details

Experiments in Physics

Part number: BK031

See Details

Fourier Sensors Guide

Part number: BK021

Biology
Chemistry
Environment
Physics
Math
EcoLogXL

See Details

Math in Science

Part number: BK083

Middle School Activities

Part number: BK061

Biology
Chemistry
Environment
Physics

See Details
Featured Experiments
Technical Spec
Inputs

Auto ID mode: Up to 4 simultaneous analog inputs or 4 digital inputs with automatic sensor identification
8 Inputs mode: Up to 8 simultaneous analog inputs or 4 simultaneous digital inputs and 4 analog inputs

Outputs

USB 2.0 specification compliant
4 Digital Control Outputs

Sampling Resolution: 12-bit
Sampling Rate A/D up to 10 ksps:

1 sensor = 10 ksps
2 sensors = 2 x 5 ksps
3 sensors = 3 x 3.3 ksps
4 sensors = 4 x 2.5 ksps
* Sampling rate calculation = 10K ÷ number of sensors
NOVALINK Features

Works with all Fourier sensors
LED that will indicate device connection and will blink while sampling
Variety of mechanical interfaces for attaching to computer LCD or standard laboratory stand
Power Supply: Powered by USB port
Dimensions: 57 x 57 x 20 mm
Weight: 73 gr
Standard Compliance: FCC, CE
Accessories:

Cable adapter for Vernier sensors
Com. Cable
Splitter Cable