EcoLab for EcoLogXL
Making Science Learning
Enjoyable for Young Students
The EcoLab data analysis software, for use with the EcoLogXL data logger, is designed to make science learning enjoyable for younger students. Using EcoLab, students can display their data in creative, colorful formats with easy-to-use data analysis tools. EcoLab engages students with a wide range of multimedia analysis tools, including audio and video features that allow students to view and share online or recorded movies of their experiments.
Students will find EcoLab to be a very user-friendly introduction to data measurement and meters (including analog, bar, digital and color). EcoLab's intuitive dashboard provides real-time readings, indicated by a change of color.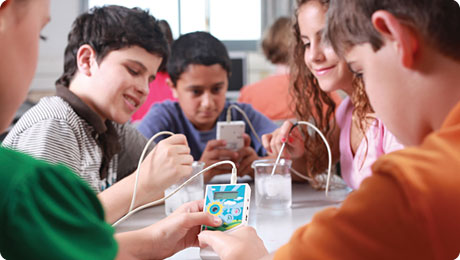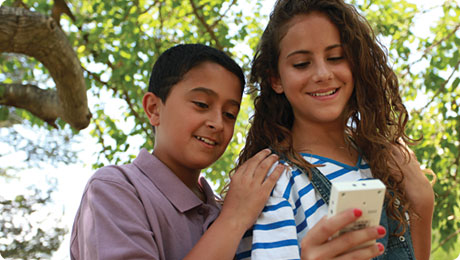 Among EcoLab's features is the ability to auto-export data to Excel or other Officecompatible applications. In addition, it includes a pedagogical tool for teachers called Workbook, which contains HTML worksheet templates. Workbook is a lab template that gives students a step-by-step preview of the activity and automatically configures EcoLab accordingly, so that the student can begin collecting data. Students can add notes or answer questions in text files directly from the Workbook window and add them to the project report.
EcoLab also comes with automatic analysis tools such as linear fit, slope, area and statistics, allowing students to perform a range of data analysis, adding pedagogic value to their experiments. Also featured is data pattern prediction which pauses the online data display, enabling students to record on screen predictions, and then allow the real data to resume downloading; students can then compare the real results with their prediction.
Key Benefits
Key Features
Graph, video, table, four types of meter displays

Multimedia reports of experiments with data, video, audio and text files

Online or recorded video stream of the actual experiment

Record audio comments

Works with USB port

Automatic COM port recognition

Real-time online data transfer display

Automatic and manual data download

Quick export of data to Excel

Data Analysis: Integral, Slope Smoothing (averaging), Statistics

Measurement readings are facilitated by locating cursors on the graphic display

Advanced zooming and panning tools

Predict Tool graphically predict the results

Workbooks lab manuals with quick EcoLab setup

Text annotation

Operating Systems: Windows XP / 7; Mac OS 10.4-10.6
Modules