MiLAB Android
Available in Google Play
Free Download!
Fourier has launched MiLAB™, a new data analysis application, based on Fourier's award-winning MultiLab software. MiLAB features an intuitive and user-friendly interface that makes it easy for students to collect, interpret and understand data collected. Unique to MiLAB are improved data analysis features, windows to view each sensor separately, a search window to easily find saved activities and the ability to geographically locate activities using a built-in GPS.
MiLAB supports devices running Android OS 2.3 and above, as well as devices with a screen resolution of 800 * 480 or higher.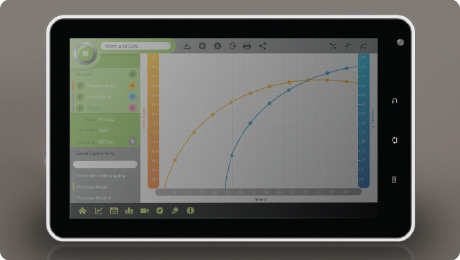 Key Benefits
Key Features
Professional data analysis tool

Multiple data display modes: graphs, tables, meters and map

Drag & drop window displays

Customized views

Real-time data measurement via built-in and external sensors

Supports over 65 Fourier's sensors

NOVA AIR wireless compatibility

Supports GPS for location based experiments

Advanced search tool

Intuitive and simple interface

Experiment note-taking feature

Export and Share options

Supports various types of android mobile devices (tablets and smartphones) – 7'', 5'', 10''
Modules