MultiLab™(PC / Mac / Linux)
Powerful and user-friendly
data analysis software with audio and video capabilities
MultiLab™ is a comprehensive data analysis program that provides everything students need in order to collect, present (in graphs, meters and tables) and investigate data with sophisticated analysis tools and view online or recorded video movies of the actual experiment.
The software windows can display a graph, table, video and a navigation pane, called the Data Map. All four windows can be displayed simultaneously or any combination of the four, as needed.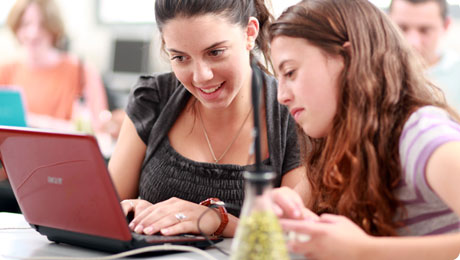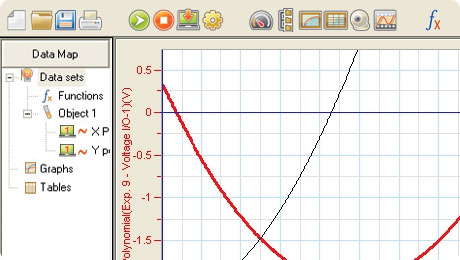 Fourier Education promptly & professionally addressed our needs, and their data loggers, probeware and MultiLab software are revolutionizing science learning in our school district.
Darryl Tate, Information Technology Support Specialist
Lower Dauphin School District
Hummelstown, PA USA
Key Benefits
Defining Sensor Properties for sensors that produce more than one measurement or where data is displayed in different units; for example velocity and acceleration with a Distance Sensor.

The Timing Wizard is used to take direct measurements of time, velocity or acceleration with one or two Photogate Sensors and is essential for conducting collision experiments.

Predicting Tool allows students to plot predictions of experiment results and compare this to the actual data as it is plotted in real-time.

Excel Export/Import Feature is MultiLab's sophisticated lab reporting tool for displaying recorded data in Excel.
Record Your Own Experiment (data & video) with a standard webcam to document your experiment and create video lab reports.

Multimedia Lab Reports can be easily created by importing graphs and tables from MultiLab into Office applications like Word and PowerPoint.

Video Motion Analyzer converts any motion movie into position data and applies MultiLab's advanced math functions to analyze the motion.
Key Features
Intuitive and easy-to-use

Online streaming of sensor data display

Collect data from multiple sensors simultaneously

Multiple sensor displays: graphs, tables and meters

A large suite of math functions for analyzing the data

Excel compatible (import / export data)

Online display of streaming sensor data from NOVA AIR

A rich pedagogic library of experiments developed by science education experts

Educational Workbooks featuring multiple experiments and guide manuals

Multimedia-synchronized recording of video and data from the sensors

Video Motion Analyzer that converts any motion movie into position data

Works seamlessly with Office applications

Localized interface solution for over 20 languages

Operating Systems: Windows XP / Windows 7 (32 & 64 bit) / mac / Linux
Modules
Video Experiments
Fourier's experiment library in MultiLab contains over 20 pre-recorded video experiments that serve as an instructional setup guide for both students and teachers. These experiments also contain synchronized data and video streams which can be used for review either before or after conducting their own experiments. MultiLab's video experiment library also provides an alternative to performing dangerous, costly or time-consuming experiments. When writing the lab reports, students can use data from their own experiment or use MultiLab's video data to revise and clarify points from the experiment.
MultiLab's video library is a proven and useful resource in teacher training and in demonstrating setup and procedures, helping them to better plan objectives and visualize guided class experiments.
MultiLab Workbook Tool
MultiLab's Workbook Tool contains a library of experiment guides that gives students a step-by-step preview of the lab activity to be conducted. All parameters for each included experiment are pre-set in MultiLab making data collection a click away.
Teachers can add their own experiments to the MultiLab software and pre-configure settings accordingly, thus saving valuable classroom instruction time and resources.
Video Motion Analyzer
MultiLab's Video Motion Analyzer is a great tool for measuring true motion parameters such as position, velocity and acceleration, which cannot normally be measured via sensors. Science experiments that can be analyzed include: motion (including investigations in dynamics trolleys), acceleration & decceleration, free fall, motion of a ball and simple
harmonic motion.
Capture position and time from video movies
Convert movies into data sets
Analyze data with MultiLab's analysis tools
Capture single-body motion or two-body motion
Scan the movie from a known dimension such as the height of a basketball hoop. The motion is plotted by simply clicking the mouse on the object as it moves frame-by-frame through the movie. For longer videos or particularly high numbers of frames per second, there is also the option to step through a number of frames at one time. The motion of two bodies can be analyzed by using the left mouse button for one object and the right button for the other and the coordinate axes can be rotated if required.
Having captured the motion, all the tools within the MultiLab are then available to analyze the video. Thus position, velocity and acceleration can all be directly measured from a digital video clip without the use of a data logger or external sensors!
Video clips can be recorded directly from within the software and in addition, QuickTime and AVI videos can be imported.