NOVA AIR is a compact wireless one-channel data logger designed to transmit data from Fourier's sensors to computers. With NOVA AIR, teachers and students have the ability to conduct a wider range of scientific experiments that were previously unapproachable due to the limitations of cables and cords.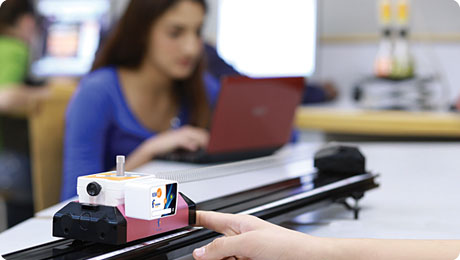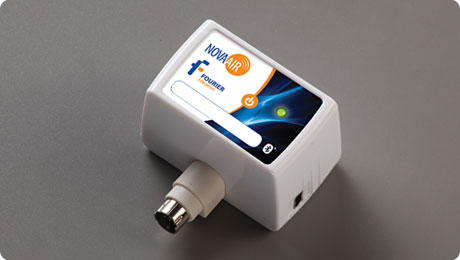 Utilizing Bluetooth® technology, NOVA AIR delivers real-time performance and increased reliability during experimentation, and its internal memory enables ultrafast sampling rates which are highly beneficial when performing complex experiments. NOVA AIR works seamlessly with the full range of over 65 Fourier educational sensors and provides the means to use them outdoors for a variety of activities.
NOVA AIR also includes an internal rechargeable battery that lasts up to 4 working hours and can be charged via a standard mini-USB connector.
Key Features
Plug n Play (sensor auto-detect function & simple pairing process)

Sampling rate of 1,000 samples / second

Memory capacity of 100,000 samples

Tri-color LED indicating active device connection and sampling status

Supported platforms: WIN-PC (XP/7), Android & iOS
Content
Environmental Science & Water Quality

Part number: BK055

See Details

Experiments in Biology

Part number: BK029

See Details

Experiments in Chemistry

Part number: BK030

See Details

Experiments in Physics

Part number: BK031

See Details

Fourier Sensors Guide

Part number: BK021

Biology
Chemistry
Environment
Physics
Math
EcoLogXL

See Details

Math in Science

Part number: BK083

Middle School Activities

Part number: BK061

Biology
Chemistry
Environment
Physics

See Details
Featured Experiments
Technical Spec
Wireless (Bluetooth) data logger
Mini USB (Type B) communication port
1 Mini DIN sensor port for 1 sensor (in Auto Detect mode or Manual Define mode)
Sampling resolution: 12-bit
Sampling rate: Up to 1,000 samples / second
Memory capacity of 100K samples
Auto ID for all Fourier sensors
Tri-color LED indicating:

Device connection
Sampling
Battery status
Powered by a rechargeable battery or by USB port
Battery life: up to 4 hours
Supported platforms:

Windows XP, 7
iOS (iPad/iPhone/iPod Touch)

Weight: 56g