The award-winning NOVA5000™ is a portable, standalone data logger that runs on Windows CE and provides students with a wide range of PC-like functionality. The NOVA5000 comes bundled with the full version of the MultiLab data analysis software and is compatible with Fourier's over 65 sensors, enabling students to perform hundreds of scientific xperiments in Biology, Chemistry, Physics and Environmental Science.
Among the features that set the NOVA5000 apart are its 7" touch screen, the ability to collect data from up to 8 sensors simultaneously, connectivity with a projector and printer and more! In addition to MultiLab, the NOVA5000 comes bundled with an interactive periodic table, unit converter, interactive simulations and a suite of user-friendly MS Office compatible applications for creating lab reports.
Whether in the lab or in the field, the NOVA5000 ensures that students enjoy and experience science!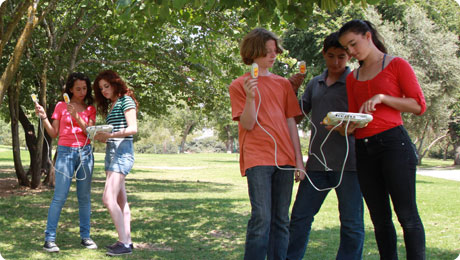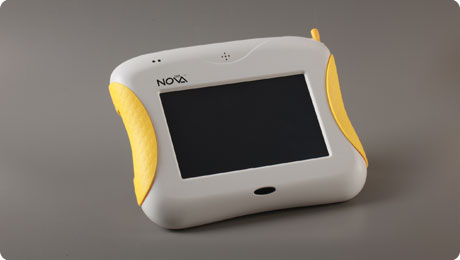 Key Features
A portable computerized science lab with a 7" touch screen

Collect data from up to eight sensors simultaneously

MultiLab 3.0 data analysis software (full version)

Extensive library of science workbooks and curriculum support

Over 65 sensors to perform hundreds of experiments

Allows students to create sophisticated, MS Officecompatible lab reports

Printer & projector connectivity

Multimedia synchronized recording of video and data

Interactive periodic table and simulation of scientific experiments

Internet access for additional science resources
Featured Experiments
Technical Spec
Inputs
Auto ID mode: Up to 4 simultaneous analog inputs or 4 digital inputs with automatic sensor identification
8 Inputs mode: Up to 8 simultaneous analog inputs or 4 simultaneous digital inputs and 4 analog inputs
Outputs
4 digital control outputs
Sampling Resolution: 12-bit

Sampling Rate A/D up to 10 ksps:
1 sensor = 20 Ksps
2 sensors = 2 x 10 Ksps
3 sensors = 3 x 6.6 Ksps
4 sensors = 4 x 5 Ksps
* Sampling Rate calculation = 20K ÷ number of sensors
Processor: Marvell PXA320, 624 MHz
Operating System: CE.NET 5.0
Screen Resolution: 7" touchscreen - (800 x 480 pxl, 65,000 colors, 400 cd/m2)
RAM: 128 MB
Flash memory: 1GB
Graphic Accelerator: Built-in 2D
Ethernet port: 10/100
Integrated WiFi: 802.11 b/g
USB 1.1 ports: 3
Power Supply: AC Adapter/Battery charger; Rechargeable battery pack (up to 8 hours)
USB Cable: 5 ft (1.5 m) , included
Dimensions: 9.33" x 7.32" x 1.7"
Weight (including battery): 2.4 lbs (1,090 gr.)
Standard Compliance: CE & FCC
Stylus: 2 included
NOVA5000-2012 Software Applications - Included
Windows Media Player 9
MultiLab™ data collection and analysis software
Internet Explorer 6.0
Just Ask - Simulations
Unit Converter
Interactive Periodic Table
SoftMaker Office Suite: TextMaker, PlanMaker & SoftMaker
Presentation (Word, Excel & PowerPoint compatible)
WordPad
CalcCE scientific and statistical calculator
Microsoft Transcriber with character recognition
Flash 7 plug-in
Printer drivers (for printers with PCL support)
PrintBoy printing application
Sound Recorder
NOVAPaint
NOVANotes (for audio, sketch and note taking)
Optional Software Applications
Inspiration concept mapping software
Portrait-4 scientific graphic calculator
Inside Math
LanSchool
Java plug-in
Optional Accessories
Mini USB keyboard and/or Mini USB mouse
NOVA WebCam
NovaScope Digital Microscope
NOVA5000 carrying case